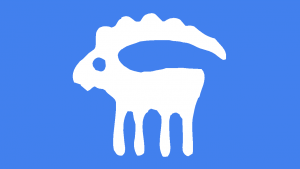 January 2015 Capricorn horoscope with decans for a more accurate forecast. If you are on a cusp, use the free horoscope to find your decan.
Decan 1 Capricorn January 2015
Life should be most pleasant for the first month of 2015. The fortunate and productive conditions brought by the Sun in your decan will remain in place until the January 20 new moon. As mentioned last month, "your solar return chart is enhanced by the December 22 new moon." So expect the self-confidence to ast all year too.
If all the intensity of a birthday, Christmas and new year packed into a few short days leaves you weary, then worry not. Mars sextile your decan from January 12 to 25 will fill you with energy, passion and initiative. This is great timing to get to work on your new years resolutions. Just as well, because these resolutions take on more importance this year because of the birthday new moon.
Successful action is a keyword for this transit. Anything started in this period can be finished off with ease. Personal growth, or plans to improve your life would be a good idea considering the fortunate Jupiter transit coming up later this year. Neptune sextile your decan is also promoting a positive and productive imagination. Dream up what is best for yourself and your loved ones. Go beyond money and stuff. Neptune requires a spiritual and a morally just outlook. Mars conjunct Neptune from January 17 to 22 energizes your imagination and dreams.
The final influence this month is a relaxing Venus sextile from January 27 to February 5. While Mars would have brought sexual magnetism, Venus brings her beauty and soft touch. Socializing is favored and you will enjoy more personal popularity. Feeling good on the inside will make you appear more attractive in the eyes of others. Dating should be the desires results at this time. You should also have a few extra dollars to spend on yourself, with bargains found in clothes or beauty products.
Decan 2 Capricorn January 2015
Very powerful and fortunate stars ahead this month The Sun in your decan from January 1 to 10 is made extra special with the addition of the January 4 full moon. A birthday full moon adds sensitivity and emotion, placing a focus on your home, family, heritage, instincts, and intimate relationship. As the big story in your 2015 solar return chart, these remain a background influence for the year ahead, but most powerful up to the January 20 new moon.
A birthday full moon favors reflection, completion, and reaping what has been sown. You can still start new projects this month, and the next transit favors that. But until then, you should feel an urge to consolidate, shore up your foundations and make everything and everyone comfortable. You will not want to leave you castle to conquer new lands, but strengthen the bonds with loved ones. They may be in greater need of your attention, and you of theirs.
Mars sextile your decan from January 24 to February 7 indicates the right time this month for starting anything new. Things which require energy and initiative, or a strong sex drive, are best planned for this period. You will have the upper hand in any battle.
If you would like to make a big impression on someone, then pace yourself at the start of this transit. Whatever your quest, target or cause, plan the major offensive for January 28 to February 1. Mars sextile Pluto will make you an unstoppable force. Mars energizing Pluto in your decan will give you superhero powers.

Decan 3 Capricorn January 2015
Both social planets, Mercury and Venus, entered your decan last week. They are moving very close together, and stay in your decan until January 5. We all feel this friendly influence, but you most of all. Even before your birthday you should be the center of attention. Mercury in your decan will make words will flow with ease and confidence. With the Venus conjunction, good feeling will radiate from you. This week you can enjoy increased popularity and a busy schedule. You can pack a lot of work and pleasure in this short time without feeling exhausted.
This would be one the better times this year for a number of things. Socializing will obviously be fun. Romance is indicated, with an existing relationship benefiting from mutual understanding and increased affection. New romance is very possible because of your super attractiveness and personal charm. Your finances should be in good enough shape to allow for some extra pampering. Bargains can be found in fashion, jewelry, and cosmetics.
The Sun in your decan from January 10 to 21 receives a special boost from the January 20 new moon. The increased power and influence of this transit will be intensified. A birthday new moon makes the following month a very important one for you. You can set new goals with extreme confidence. Previous obstacles to success should fade away. All of your relationships should flow smoothly, and  old disputes settled once and for all.
This is like turning over a new leaf. New goals and new years resolutions should be initiated before the February 3 full moon. As the central theme of your 2015 solar return chart, this birthday new moon will extend this powerful and productive phase of life right up to your next birthday.
Monthly Horoscopes