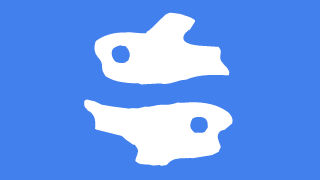 Pisces monthly horoscope with decans for a more accurate forecast. If you are on a cusp, use the free horoscope to find your decan.
Pisces Decan 1 born Feb 19 to 28.
Pisces Decan 2 born Feb 29 to Mar 10.
Pisces Decan 3 born Mar 11 to 20.
Decan 1 Pisces May 2014 Horoscope
A very positive boost to your self-confidence from the April 29 Solar Eclipse will help you get on top of any challenged posed by some testing transit this month. A solar eclipse sextile your decan does have a harmonious influence on all of your relationships. It will also help clear away any obstacles to progress, and can even bring support and assistance from those in positions of power and authority.
The first challenging period will affect your thinking and how you communicate, with Mercury square your decan from May 7 to 13. Your suspicions may be aroused by Mercury square Neptune from May 10 to 12. This activates the potential for deception and treachery this year due to Neptune in your decan. From May 20 to 31, the ego challenges and conflict of the Sun square your decan will be intensified by the New Moon on 28 May 2014. This new moon will itself have an air of suspicion around it, with the Sun square Neptune from May 26 to 30,
You will be able to relax and not worry so much from May 28, with both social planets Mercury and Venus teaming up to relieve the tension of previous weeks. Venus sextile your decan until June 7 will improve your social life and increase the amount of love and affection you receive. From May 28 to June 17, Mercury trine your decan brings excellent communication skills and a clever wit to make socializing more enjoyable. This combination will also make doing business more profitable, with a good head for numbers and sound judgement skills.
Decan 2 Pisces May 2014 Horoscope
Another dynamic month ahead for you, and while the intensity may not be so great, the potential for making gains has actually increased. From April 30 to May 11, the boost to confidence levels from the Sun sextile your decan is amplified and extended though til October 2014 by the April 29 Solar Eclipse. From April 29 to May 3, Mercury sextile your decan will help you clearly see the path ahead and enable you to start making plans for this productive phase of life.
Mercury opposite Saturn from May 1 to 3 means that you will also be able to identity any barriers to success. Saturn trine your decan from the 1st of May until the end of September 2014, will give you the determination and strength to break down any of the obstacles that become apparent early this month. May 2014 is the final month of a very fortunate growth cycle thanks to Jupiter trine your decan. This overlapping of Jupiter and Saturn transits to your decan is very significant, because Jupiter trine Saturn in the second half of this month indicates the ideal time for substantial business gains and other large scale achievements.
The achievement of goals and resulting recognition, should peak with the climax of Jupiter trine Saturn around the 24th of May. This could involve promotion or a new job, or investing in real estate or the stock market, even starting your own business. Sun sextile Jupiter from May 4 to 8 indicates the best time to ask for assistance and promote yourself. Sun opposite Saturn between May 8 and 12 is the best time to narrow down your options and make sure everything is solid and well-based. From May 12 to 20, Mercury square your decan will force a double-check all the details. Other people may challenge your ides, and and open mind should be maintained because you may be missing something important.
Decan 3 Pisces May 2014 Horoscope
The sociable conditions you have experiences over recent weeks continues with Venus in your decan until the 3rd of May 2014. While the focus was more on your love life with that transit, Mercury sextile your decan from May 2 to 8 will have a more general effect on your social life. Clear thinking and good judgment skills also means that doing business is favored in this week. Since December last year, slow and steady growth has been a feature of Saturn trine your decan. This patient and plodding influence comes to an end in the first week of May but the growth theme certainly does not stop here.
From May 10 to 21, the Sun sextile your decan culminates withe a Full Moon on 14 May 2014. For the remainder of this month you should enjoy a nurturing and emotionally supportive home life, with closer bonding between you and your partner and your family members. This would be an ideal time to take it easy and spend quality time with loved ones. The pace of life will pick up shortly, so recharging your batteries now is a good idea.
From May 19 to 30, Mercury square your decan has the potential to cause some disagreement and arguments. With the nourishing full moon mainly affecting your personal life, it is likely that the mental stress caused by Mercury is going to impact more on your professional life. The big news this month is that you are about to embark on a very fortunate growth spurt. From May 27 to July 19, Jupiter trine your decan creates ideal conditions for increasing your wealth as well as you level of happiness and satisfaction with your lot.
Monthly Horoscopes