Saturn is the Lord of Karma. Retrograde motion is a time when karma is sorted out. So, Saturn retrograde 2013 is a double dose of karma. Before we get into this, we need to understand what this word means. Karma is a form of energy that is very real. Like Saturn, it is very closely bound to time. Past, present, and future blur into one. If we have been bad in the past, then at a certain predestined time, an event will occur to teach us a lesson. If we been good in the past, then at a predestined time, an event will occur to reward us for our good deeds.
With Saturn in retrograde motion, the karma will relate to how responsible we have been in the past. The implications will affect our sense of security. Now, this could be in any area of life and that will depend on two things. First, we have to look at the chart for the moment Saturn stations retrograde. Secondly, how it affects you, and in which area of life will depend on how Saturn aspects your natal chart. So, we will take a look at the chart for Saturn Retrograde 2013 and then run through how it may affect the zodiac signs.
Saturn Retrograde 2013 Astrology
Saturn Retrograde starts on the 18th of February 2013 at 11 degrees Scorpio. Saturn is aligned with the brightest star in the Southern Cross, fixed star Acrux. This is an occult star associated with magic and religion. So Saturn retrograde on this star means that we can learn an awful lot about how we manifest our desires through the power the mind. There may be some painful lessons for some, especially is they have been reckless in the use of their spiritual powers and not acted in an honorable way. Others may be rewarded for using their spiritual powers in a constructive and selfless way.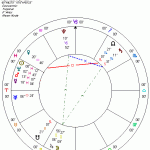 Saturn with Acrux also brings us wisdom and intuition, as well as an in-depth psychological understanding our ourselves and others. You can see in the chart below for Saturn retrograde that this theme is reinforced by Saturn sextile Pluto. Thus, we can probe very deeply to find what level of security we need and what responsibilities are most important, then we can set achievable and realistic goals. Once we work all this out, Saturn on Acrux sextile Pluto allows us to make some structural reforms in our lives. This will enable us to feel safe, to know what we have come here to do, to meet our obligations, and to succeed.
Now look at those green lines in the chart below from the Moon to Saturn and Pluto. They are called quincunx's and are aspects of karmic adjustment. Together these make an aspect pattern called a Yod, or Finger of God. This means that all the karma accrued over many lifetimes has reached such a volatile state that it must be dealt with once and for all.  This is to relieve the incredible tension that is keeping us from functioning in a stable and safe manner. There is a specific task to be completed, which we have no choice about. Fated events will occur to lead us in the right direction. We may not always like where this energy takes us, but we have to surrender to the higher power. If we resist, things can get most unpleasant.
Our spirit guides and ancestors are with us. Sun conjunct Neptune increases our sensitivity to spiritual entities and helps dissolve the ego. Pluto rules our genes, Saturn our ancestors and paternal side, and the Moon our home, family, and maternal side.
The wisdom and reforming power of Saturn and Pluto are focused on the Moon. So we are going to feel this Saturn retrograde at a very personal and emotional level. The karmic issues will revolve around our home, family, and our most intimate of relationships. Moon conjunct Jupiter will amplify our emotional sensitivity and make it near-impossible to control or hide our emotional reactions to any events.
The Moon is on the major fixed star Aldebaran. This brings into the spotlight how we depend on our loved ones for emotional and physical satisfaction. The relentless, soul-evolving power of Saturn sextile Pluto will bring to the surface our innermost "subconscious urges and emotional needs". We will be forced to face the reality of the situation. We will have to ask how responsible and realistic we have been when having our most fundamental primal urges satisfied by another soul. And after we see ourselves in this light we may feel insecure, alone, and afraid.
The karmic issues may also apply to the physical home. Is is good enough, too big, too small, too expensive? Are we taking good care of our family, our parents, our children? Custody issues may arise. Venus square North Node implies some change in direction is needed in love relationships and with money. Events which force this change may be unpleasant. It all comes back to how responsible we have been in managing our obligations.
The aim of this whole Saturn Retrograde 2013 exercise is stand on our own two feet as individual souls. We must define our mission in this life and reform ourselves so that we can complete the mission. The are two things that must be done to achieve this. First, we have to working out our responsibilities. Who and what are we responsible for and to what degree? Then, we have to commit to fulfill our obligations. Second, we must determine if other people or things in our lives are weighing us down. Are they really our responsibility? Are they expecting us to care for them but they are not supporting us? Do we need them to do what we came here to do? If they are sucking our energy and distracting us from our karmic mission, then Saturn retrograde demands we cut them loose.
Saturn Retrograde 2013 in the Signs
For Scorpio, Saturn in your sign means this a culmination of many years of effort. The harder you have worked and the more responsibly you have carried out your duties, then the more rewarding this Saturn retrograde will be. Even though you can achieve success and a good sense of sanctification, it will still involve hard grind, patience, and determination. Things don't come easy, but the gains are well deserved. There may be delays, restrictions, or extra responsibilities to take on.
For Taurus, Saturn opposite your sign means this could be a testing time for you. You have to make more effort just to hold your ground, but at the same time, you could lack the necessary energy and motivation. It is important not to get too down on yourself. It is up to you to stand tall and soldier on because you may not get a lot of support from others. You may even feel like the world is against you. People or circumstance may put up barriers to your progress. If this does occur, then this Saturn retrograde requires you to use common sense and to consider a change of direction or retreat.
For Leo and Aquarius, the challenging square from Saturn represents a cross road in life for you. You could well feel very pressured during this Saturn retrograde period, as a brick wall comes up in front of you, forcing you to think seriously about changing your goals. This is most likely to happen if you have been straying off your destined path. Even If you are on the right path, then it can still be a struggle to battle on. Events and people will test your character and you may feel alone and discouraged. Patience and persistence is required to overcome any adversity. If it all gets too much, then it could be a signal that it is time to cut your losses and start over.
For Virgo and Capricorn, the sextile from Saturn retrograde means that things are changing for the better. You may have been struggling to find stability and security in your life for a while now, and putting in a good deal of effort for little return. Now, the hard work is showing signs of paying off. You are going to have to get used to this new dynamic and make a few adjustments to make the most of it. This means pushing even harder and taking on more responsibility. Work on strengthening the foundations more than reaping the rewards. This relationship, career, house, or other project is going to be a long term prospect and will be successful and satisfying.
For Cancer and Pisces, the trine from Saturn means you have good karma coming your way. Saturn Retrograde 2013 should be a stable and successful phases of life with low stress, big achievements, and ego-boosting recognition. You can feel confident that you now deserve the best, because you have earned it. People you have helped in the past, even in other lives, will now come forward to help you out. You can make the most of this good Saturn retrograde karma by continuing to work hard with determination and a strong sense of duty and respect.
For Aries, Gemini, Libra and Sagittarius, you scored yourself a get out of jail free card with no major aspects from this Saturn retrograde. Better than a poke in the eye with a blunt stick.
Saturn Retrograde 2013 Dates
15 November 2012, Saturn enters the retrograde zone at 4 Scorpio.
18 February 2013, Saturn stations retrograde at 11 Scorpio.
8 July 2013, Saturn stations direct at 4 Scorpio.
14 October 2013, Saturn leaves the retrograde zone at 11 Scorpio.