Saturn sextile Pluto in the natal chart gives steely determination and endurance which is put to practical use to create something of value, something lasting. These people have an amazing ability to focus on a particular project and see it to completion, they keep probing, keep working so hard like a machine. Systems and order are a high priority so there often a systematic approach to life with strict regimes and structures in place to maintain order and a sense of security.
However any strict self-discipline does not restrict the creative process, in fact these people can find revolutionary new ways of doing things we might associate with Uranus. This may be the transforming nature of Pluto, combining with the expansive and creative nature of the sextile, then manifesting through Saturn results. Respect and high recognition can come from their achievements.
Saturn Sextile Pluto Celebrities
Nikola Tesla has Saturn sextile Pluto at just one minute orb. He was a world-famous mechanical and electrical engineer, physicist and inventor. Celibate and never married, he was so regimented and meticulous we would call him OCD these days. He started work every day at 9 am, ate dinner alone at exactly 8pm, at the same restaurant every day, served by the same waiter. His grooming, clothing and daily routine was highly regimented, "not because of personal vanity. Neatness and fastidiousness in clothes were entirely in harmony with every other phase of his personality." Tesla had a photographic memory, spoke eight languages, and had an extremely strong work ethic, once working for 84 hours straight. He even showed this endurance while playing, often spending more than two days at a gambling table.
Astrologers with this aspect include Barbara Hand Clow (01′), John Partridge (16′), Karen Hamaker-Zondag (38′) and John Addey (49′). Others famous people with Saturn sextile Pluto in their natal charts include Michael Nesmith (10′), Leona Helmsley (11′), Muammar al-Gaddafi (12′), Joe Pesci (12′), Riley Keough (15′), Neil Bogart (20′), Alene Bertha Durek (22′), Janis Joplin (24′), George Harrison (26′), John Edwards (27′), Roberto Calvi (30′), Neville Brand (30′), Auguste Escoffier (38′), Orlando Bloom (49′), Mohamed ElBaradei (50′), Jeffrey Wigand (51′) and Paul McCartney (56′).
Saturn Sextile Pluto 2012-2013
The Saturn Pluto cycle lasts 33 years and describe the evolution of large-scale, national or global structures within in society, politics and finance. In early 2013 we are now experiencing the waning sextile between these two heavyweights. So we are entering the final stretch of the current cycle which began with the Saturn Pluto conjunction of 1982, and will close with the next conjunction in 2020. For more information about Saturn Pluto cycles, and this one in particular, see Nick Anthony Fiorenza's excellent and detailed analysis including the fixed stars in Synodic Astrology, The Saturn-Pluto Synodic Cycles, A Historical Exploration, 1851 – 2020.
There are three exact sextiles of Saturn and Pluto, the first was on 26 December 2012. Saturn turns retrograde on February 18 so this aspect stays within orb of one and a half degrees for a number of months from early December 2012 to late March 2013. The second exact aspect is on the 8th of March 2013, and the final one is on 21 September 2013. So we have this positive transformation of our structures going on but we cannot separate Saturn sextile Pluto from the stronger and longer lasting influence of Uranus square Pluto, which is painting a backdrop of radical and difficult to deal with change and upheaval. The influence of Saturn sextile Pluto from November 2012 to November 2013 is positive and gives us the patience, determination and perseverance to find solutions to the crisis unfolding with Uranus square Pluto.
Saturn Sextile Pluto December 2012
The first exact sextile on the 26th of December 2012 involved the Yod to Jupiter. Thus growth, our values and morals were the focus. One manifestation of the focus on Jupiter growth was the fiscal cliff debate in US politics, aimed at achieving sustainable growth in tandem with debt reduction and tax increases. With Lilith conjunct Jupiter, the issues involved the treatment of women and we a starting to see structural reform in India). With Lilith sometimes being termed the baby killer, our Jupiter morals are in the spotlight following the Sandy Hook school massacre. Reform of gun laws in now on the agenda. These are all confronting issues which the Jupiter Yod threw up. Saturn sextile Pluto is facilitating the major reforms needed to address the issues, and the first small steps have been taken. We should see good progress as the story unfolds.
Saturn Sextile Pluto March 2013
The second sextile is on the 8th of March 2013 and this one looks promising. Mercury, Venus and Chiron are all together so there should be a cooperative spirit in negotiations with an emphasis on healing the rifts. This directly applies to the ongoing issues because this stellium is sextile Pluto and trine Saturn, very harmonious aspects which should facilitate productive dialogue. With both Saturn and Mercury retrograde, we can see the process is still unfolding but I expect good progress to be made. Another thing working in our favour is Jupiter sextile Uranus which suggests enthusiasm and open-mindedness to find original solutions to the Uranus square Pluto crisis. It also brings some unexpected good fortune.
September 2013 Star of David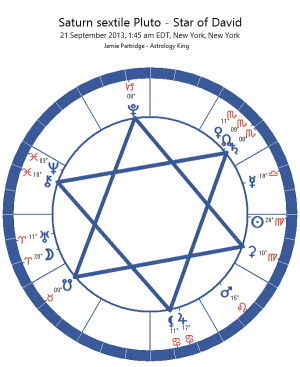 The third and final sextile between Saturn and Pluto falls on the 21st of September 2013. Did someone ever predict that women would rule the world? Well this chart suggests that women are at least going to be very influential in resolving the dramas we face this year. Too many aspect patterns to mention but I have not seen a Star of David look so prominent before. There is a ring around this chart of sextiles, and the energy does focus on Saturn, North Node and Venus. The others involved in the sextiles are Pluto, Chiron, South Node, Lilith and Ceres. Hence there is a strong emphasis on the dark feminine.
An evolutionary turning point with Pluto stationing direct on the 20th of September? Venus women taking responsibility with Venus conjunct Saturn, respect for women. With the North Node we could see this as a karmic turning point where women claim their authority. This stellium of Venus, Saturn and North Node are on a star called Nusakan which is in the constellation Corona Borealis, the Northern Crown. This is Ariadne's crown, given to her by Venus.
Ariadne was princess of Crete, in charge of the labyrinth where human sacrifices were made to the Minotaur. She helped Theseus slay the Minotaur and fell in love with him. But she was dumped by the hero and ended up marrying Dionysus. Venus gave her the crown on her marriage to Dionysus. The mythology and the chart show that there are sacrifices to be made, and with the first sextile we saw the sacrifice of women and children. The outcome should be good though and we can hope to achieve the significant and lasting structural reform needed to work our way through the maze of dramas presented to us by Uranus square Pluto.