Jupiter is retrograde from early October 2012 till the end of January 2013. This is a regular cycle occurring every 13 months and lasting for about 4 months. During the Jupiter retrograde motion, the normal Jupiter things like growth, happiness, wealth, our philosophy or belief systems, can be the source of introspection and hard work due to circumstances that seem karmic in nature. Jupiter retrograde can bring about the more negative qualities of Jupiter such as never feeling satisfied or happy with what you have  no matter how good it is, being a Scrooge, being selfish and greedy with your time and other resources, extravagance and over indulgence, waste, or being over zealous, hypocritical or dogmatic with religious or moral issues.
If any of the traits rear their head with Jupiter retrograde then it is a signal that you have some work to do in order the find the right balance. What value do you place on quality time with family and friends compared to accumulating wealth? Are you too generous, giving give too much to others, leaving yourself short and getting little in return? Whatever issues may come up, through circumstance or from other people, the aim is to grow and learn and find happiness from within.
Jupiter Retrograde 2012
Jupiter stations retrograde at 16 degrees Gemini on Thursday the 4th of October 2012. I lost count of the aspect patterns in this thing. The red lines making a grand cross are very challenging, and the way out of it is through the blue lines making a kite, giving the ability to rise above the difficulties. Overall this should be a very positive Jupiter retrograde period because the planet going retrograde, Jupiter, is on a very fortunate star in constellation Orion. This star is called Rigel and it has a Jupiter nature giving wealth, happiness and a charitable nature. Robson says of this star with Jupiter in particular, "Great legal or ecclesiastical preferment, many journeys, benefits from foreign affairs, favourable for marriage."
To get all these goodies you need to find and address any of those negative qualities I mentioned earlier. You will have other people to help with that. The grand cross is very personal and involves relationships of an intimate nature with the Moon and Venus in there. Partners and immediate family and especially women, Moon with the South Node suggests karmic ties and family links. The Moon in the Pleiades is in the same spot as the May 2012 Solar Eclipse, so the themes from that eclipse are very much highlighted, and are in fact very similar to the themes we get out of this Jupiter retrograde.
Moon opposite Mars causes anger to build and to be harshly express as a hot temper and emotional outburst and abuse. Venus opposite Neptune can make you all the more sensitive and suggests that you will have to address the Jupiter retrograde issue of how much you give of yourself. Are you being used, abused, swindled or deceived in some way? Of course these things work both ways.  If you are flying off the handle at loved ones or taking advantage of weaker people, then something may happen to make you change your ways. If you have to put up with irrational behaviour or are being taken for a ride in love or financially, then things will reach a point where you have to accept your role in letting this happen and work to improve the conditions.
Venus is peace, love and money, how we value ourselves and give and receive affection. Venus is critical in this horoscope because she comes under a lot of pressure from Moon, Mars and Neptune making her feel vulnerable and used, ganged up on. But Venus is also the key to getting out of this drama because of the kite formation. Remember the theme is raising Jupiter to a higher vibration, being happier and growing in all areas.  This now comes through Venus, loving yourself more in order to to be happy with yourself and what you have, and then spreading the love.
Serious thinking, patience and concentration comes from Mercury conjunct Saturn. Trine Neptune means that you can have a practical outlook yet also reach for the ideal outcome, dreams can be materialized. Mercury and Saturn sextile Venus gives self respect and the ability to communicate any grievances with tact and love. Ceres in this chart is important not only because of the positive blue lines, but when Jupiter entered the retrograde zone it was conjunct Ceres, making Ceres themes crucial in the whole story.
Ceres rules cereal crops so personal and spiritual growth could come from moving toward a more sensible and healthy diet, free of Neptune toxins and free of Jupiter retrograde gluttony. Ceres also has some rule over family relationships, especially between parents and children, and also with in-laws and step families. There is a very strong feminine influence in this horoscope with the Moon, Venus and Ceres. It may be these types of relationships which are important in helping you  find those issues which need addressing. They may be the source of some emotional dramas but the key to your own growth and happiness.
Jupiter Direct 2013
Jupiter turns direct on the 30th of January 2013 at 06°19′ Gemini. This is the same spot as the November 2012 lunar eclipse making this retrograde station especially powerful and karmic in nature involving the family and the past. The theme of that eclipse was karmic rebalancing. The theme of the Jupiter retrograde cycle is karmic issues involving female family members and close friends. These themes are combined in the chart below with Moon square Ceres highlighting tension over maternal issues. Some drama has to be sorted out between mom and the kids, or the dynamic involving grandma or step mom. Communication is the key to rebalancing the karmic issues. Moon quincunx Mercury means mom has to make some adjustments to relieve the tension.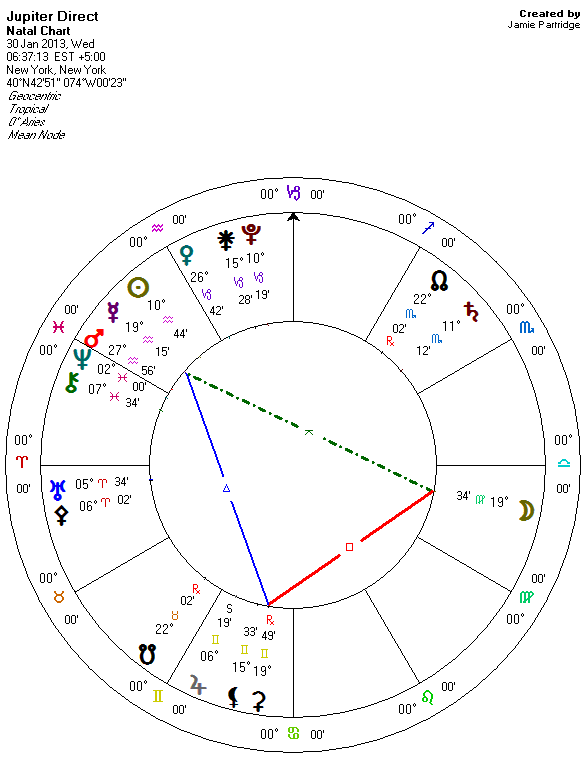 Jupiter Retrograde 2013 Dates
11 July 2012 – Jupiter enters retrograde zone at 6°20′ Gemini.
04 October 2012 – Jupiter stationary retrograde at 16°23′ Gemini.
30 January 2013 – Jupiter stationary direct at 6°20′ Gemini.
25 April 2013 – Jupiter leaves retrograde zone at 16°23′ Gemini.