Robert P. Blaschke is one of the real big names in modern astrology. Right up till his retirement last month, he actively engaged with pro and student astrologers alike, in the public arena through his many conference appearances and via the internet. I remember during the 2008 Israel – Palestine conflict I posted a question on a forum and he answered with chart posted within a couple of hours. He has also authored several books which can be found on his website Earthwalk School of Astrology. Robert has also published many articles and followed it up with active discussion, so important for the development of astrology. This is shown in his most recent article at The Mountain Astrologer Magazine.
The horoscope of Robert P. Blaschke shows a trine from Jupiter to Neptune which gives an interest in metaphysical subjects such as astrology. An unselfish and positive outlook applied to the spiritual philosophy. This definitely comes across in Roberts work. Both Jupiter and Neptune are sextile Pluto which ties this spiritual philosophy into the masses in a leadership role. These sextiles are creative and expressive aspects, and they focus the trine energy onto Pluto. This makes an aspect pattern called the Minor Grand Trine, itself highlighting creative expression and intelligence. Other keywords for the Minor Grand Trine are intuition, objectivity and research. The total orb for this aspect pattern is just 18′, meaning it is very potent and a critical and defining part of the horoscope.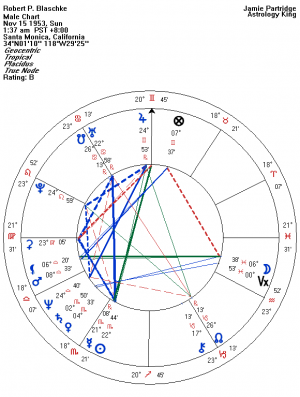 The term "Practical Mysticism" sums up Roberts astrology. This is the term used by Elida Natalia Marchisone to describe the Minor Grand Trine: "a deep curiosity about the mysteries of life and a thorough understanding of belief systems that are different from their own….a practical seeker of hidden treasures". Roberts Moon is on Sadalachbia "the ability to discover that which is hidden or lost". The other tight aspect is Sun trine Uranus (15′). Uranus is the modern ruler of astrology and this trine gives insight into new ways of approaching old things. This aspect also supports the creative self expression theme of the Minor Grand Trine. Uranus makes the neurons fire rapidly giving insights, and the Sun on Agena also gives mental activity, along with many friends, success and honor. Uranus on Pollux gives occult interests and psychic ability. A very handy trine to have for an astrologer.