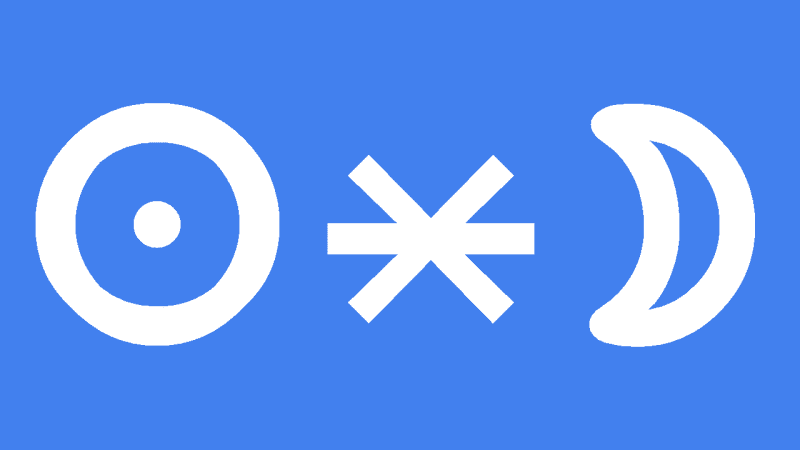 Sun sextile Moon in the natal chart gives a charming and exciting nature. These people are popular and attractive because they express themselves very well, and their spark makes them creative and enthusiastic about life.
The energy is simmering, less fiery than the conjunction and not as harmonious as the trine. The keywords "creative self-expression" comes across when you look at famous people with this aspect in tight orb. Another trait of these people seems to be high ambition.
Sun sextile Moon always gives the Ascendant sextile Part of Fortune, an indicator of reaching happiness of the soul, and general success in life. There should also be a degree of psychic ability, or at least a very acute intuition.
Sun Sextile Moon Transit
Transiting Sun sextile Moon gives a positive boost of energy to the emotions. The creative and expressive nature of the sextile aspect makes for a an outgoing attitude and harmonious relationships with friends and family. Feelings are good because the conscious and subconscious are balanced, less cares and worries for this day.
The perfect time to take the initiative to deal with any relationship problems you have been having lately, especially with someone of the opposite sex. Also a favorable time to promote yourself and ask for favors as others sense your self-confidence and balanced focus.
This interpretation for Sun sextile Moon transit can also be read for a Solar Eclipse and New Moon sextile Moon.
Sun Sextile Moon Celebrities
Lord Alfred Tennyson (18′) was one of the greatest poets of all time due to the sheer beauty of his words. George Eliot (43′) refused to let her sex impair her creativity and credibility, she was one of the most intellectually rigorous writers of the 19th century.
Venus Williams (52′) displayed her creative flair on the tennis court with her physical appearance and gestures, and more recently on the catwalk with her fashion design company. Another tennis player, Billie Jean-King (68′) also expressed her creativity outside sports through publishing and promotion of women's tennis. Other famous people with Sun sextile Moon are Jane Mansfield, Indira Gandhi and Joe Pesci.