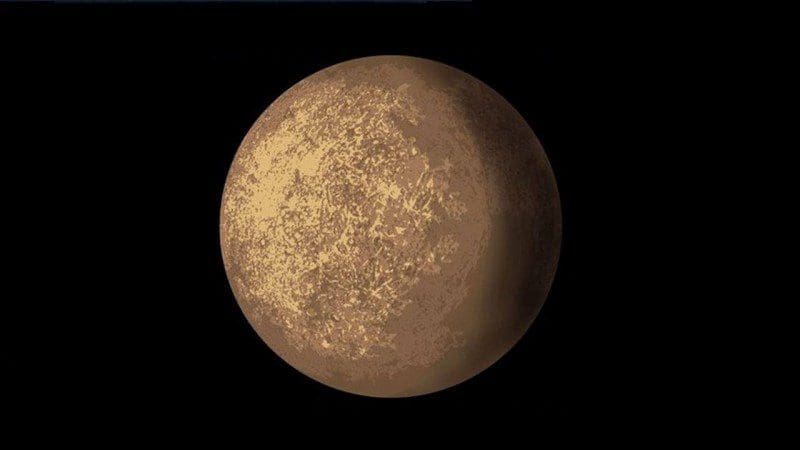 Mercury Retrograde starts on 17 September 2015 at 15 degrees Libra, and stations direct on 9 October 2015 at 0 degrees Libra.
Despite some challenges, this Mercury retrograde period is the best in a long time. It favors the peaceful resolution of disputes and the formation of committed relationships. Once Mercury turns direct we should be setting off on a promising journey in the right direction.
Mercury Retrograde Meaning
In general, we associate Mercury retrograde with communication and technology breakdowns, nervous anxiety, travel delays and lost items. There is a feel of a difficult Mercury Saturn aspect about the retrograde period, so we can also expect to dwell on things, reminisce about the past, or unexpectedly meet up with people from our past. While the Mercury retrograde period may be good for flicking through old photo albums, it is generally considered more of a nuisance than a benefit.
Mercury retrograde can play havoc with our thoughts, communications, travels and electronics. Take extra care with your words and try not to react to quickly in any arguments or if provoked. Take some time out if you start to feel overwhelmed by the hectic pace, and double-check all of your emails and posts on Facebook before hitting the send button.
Business negotiations will be in a state of flux, so this is not a good time to be signing contracts. Some important details are not yet available, and other parties may not be reliable or honest. If going on a road trip[ then make sure you get your car serviced before hand.
Mercury Retrograde September 2015
Mercury stations retrograde on Thursday 17 September 2015 at 15°55′ Libra. With no major fixed star within orb of Mercury, the astrological influence comes down to planetary aspects, of which there are three involving Mercury. Mercury sextile Venus is aspect with the tightest orb of influence at just over one degree.
Mercury square Pluto is only slightly less important, for although its orb is wider at just under 3 degree, a square is stronger in power than a sextile. It is also worth noting that Pluto is powerful being stationary and turning direct within the Mercury retrograde phase on September 25. Mercury opposite Uranus has little impact because its orb is over 3 degrees. It is also an applying aspect which means it will not be an exact opposition until Mercury has turned direct and left the retrograde zone.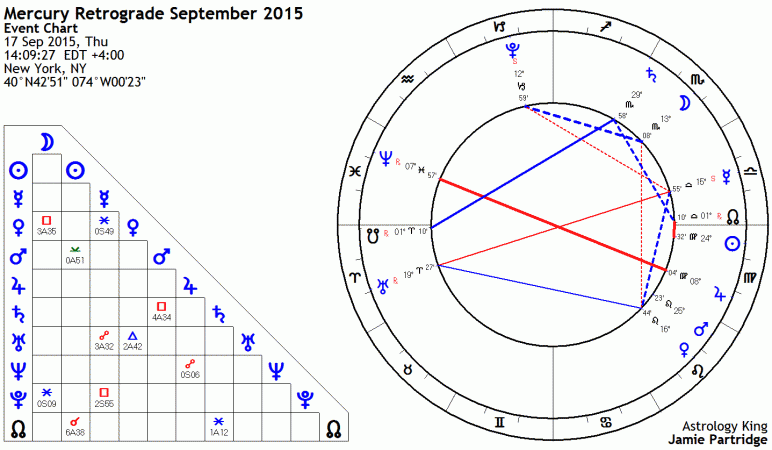 Mercury sextile Venus is a friendly influence suggesting this Mercury retrograde period is good for socializing and romance. This should reduce the chance of many of the Mercury retrograde complications such as stress and delays. Even attending to business matters should pose less of a problem than we have come to expect with Mercury retrograde. One important influence will be the increased social and negotiation skills to soften the ruthless nature of the following…
Mercury square Pluto will add some intensity and mental stress to an otherwise peaceful Mercury retrograde three weeks. This will mainly influence intimate relationships given that Venus retrograde does not leave the retrograde zone until 9 October, the same day Mercury stations direct. Romance and relationship dynamics are also major themes of the September 13 solar eclipse and the September 27 lunar eclipse, both of which have influence in this Mercury retrograde phase.
The other confrontational effect of Mercury square Pluto will be in the exchange of ideas, given the strength of Jupiter opposite Neptune which is exact only hours before Mercury stations retrograde. This will add intensity to debates and push both sides to even greater extremes.
The worst outlook then is that threats and intimidation ruin any chance of peaceful settlements or new romances. If Mercury sextile Venus prevails, compromise will be found in disputes and new love will blossom.
Mercury Direct October 2015
Mercury stations direct on Friday 9 October 2015 at 00°53′ Libra. Unlike the retrograde station, the is an influence from a fixed star, Markeb at 29°05′ Virgo. The planetary aspects involved are both positive, with Mercury stationing direct on the North Node sextile Saturn.
There are some other challenging aspect shown in the chart below. Venus square Saturn may cause some delays and inhibitions involving any romance. The Moon Mars conjunction opposite Neptune could lead to confusion and emotional outbursts.
However, we are concentration on our thinking and how we interact with others through Mercury. These are strong and well intended so should prevail, especially given the extra oomph exerted that moment Mercury starts heading in the right direction.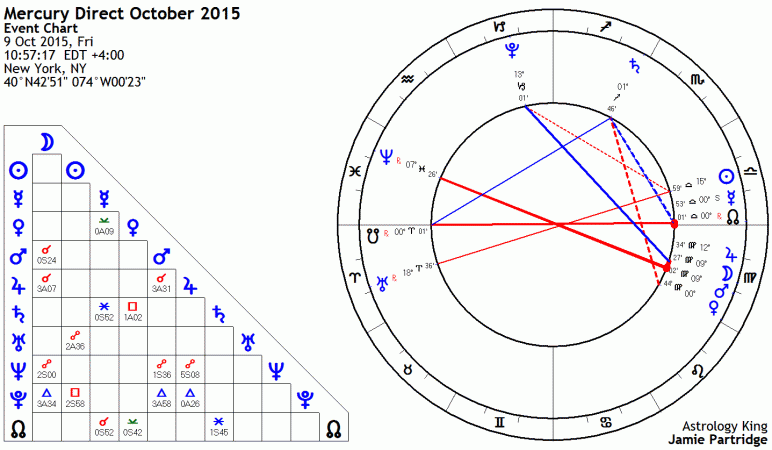 Mercury conjunct North Node suggest that we are about to head in the right direction, our souls destiny. It favors cooperation and harmonious interactions. This will promote peaceful settlement to any disputes that arose or worsened during Mercury retrograde.
As for romance, this conjunction will only tighten the bonds and suggests soul mate unions. Karmic issues from previous or past life relationships be resolved. New friendships will form and strengthen as we leave behind limiting relationships.
Fixed star Markeb will have a positive influence on the exchange of ideas as it favors open-mindedness, learning and a wide knowledge. A special feature of this star in the Sail of the Ships is that it represents a profitable spiritual journey, and that is just what we set off on with Mercury stationing direct on the North Node.
Mercury sextile Saturn is of great benefit to all matters that arose from Mercury retrograde. It adds common sense and understanding to any disagreement and favors long-term resolutions. It even favors business dealings, especially in real estate and other long-term investments.
To romance it will bring stability and commitment for the long haul, and strengthens the bonds of the karmic unions suggested by the North Node. Finally, it brings wisdom to the spiritual journey and steadies the ship.
Mercury Retrograde Summary
Mercury retrograde September 2015 should be the best of the three Mercury retrograde phases this year, and quite possible the best of next years offerings. Although there may be some crisis to deal with or ruthlessness from Pluto, everything else points to more harmony in relationships and the peaceful settlement of disputes.
So much of the astrology points to a promising new start, especially in terms of relationships, but also other areas of life. The outcome of the three-week Mercury retrograde phase supports this positive new start as suggested by the September eclipses.
We are about to embark on a learning and bonding journey toward a table and secure future. I am really optimistic about Mercury retrograde this time around, and that's saying something for someone with a Mercury Venus conjunction tightly opposite Saturn retrograde!