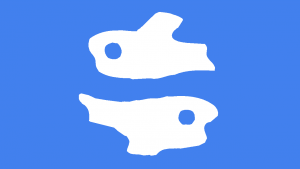 February 2015 Pisces horoscope with decans for a more accurate forecast. If you are on a cusp, use the free horoscope to find your decan.
Decan 1 Pisces February 2015
This will be an easier month to navigate compared to January 2015. Things will start of relaxing for the first two weeks, but the intensity and pace will quicken following your birthday. There are only a few days which may prove difficult so the overall outlook is very positive.
You carry over from the previous month with Venus in your decan from January 27 to February 5. This is the ultimate transit for love and affection. Increased beauty and popularity will make socializing more enjoyable, and your love life should receive a boost. When Venus aligns with Neptune from January 30 to February 3, love blends with spirituality to take relationships to a higher level. Your Neptune conjunction will inspire romance and the highest ideals of perfect love. New relationships now are possible and should continue this dreamy romantic theme.
The Sun in your decan from February 18 to March 1 brings an increase in pride, self-confidence and enthusiasm. Your birthday is always an excellent time for turning over a new leaf and putting the past behind you. This year it is more significant because of the February 18 new moon. Setting new goals now should be a high priority as they will be more easily attainable then usual. With this moon phase starring in your 2015 solar return chart, self promotion and advancement will be major themes for the next twelve months.
Some pessimism may creep up on you with the Sun square Saturn from February 21 to 25. This activation of your restrictive Saturn square is the one low point of the month I mentioned earlier. The Sun conjunct Neptune from February 23 to 27 will inspire you to follow your dreams. Visions, dreams or other psychic impressions at this time can help formulate your goals for the year ahead.
Decan 2 Pisces February 2015
Another good month ahead with most of the action coming in the first half of February 2015. You carry over from last month with passion and intensity from Mars in your decan, between January 24 and February 7. As mentioned back then, Mars brings energy, initiative and strong desires, but there may be a tendency to become aggressive if you don't get your way.
Venus in your decan from February 4 to 13 will greatly reduce any tendencies toward aggression. In fact, this combination of the planets of love and sex is ideal for your love life and creativity. February 4 to 7 is the best window this month for taking a chance with love. Courage and strong sexual appeal will make your most attractive in the eyes of others. This is a winning combination and you can easily break the ice and leave behind any inhibitions. Existing relationships can be rejuvenated with increased passion and a willingness to test the boundaries.
Venus sextile Pluto from February 6 to 10 will deepen and intensify all of your intimate relationships, whether long-term or brand new. Pluto sextile your decan will transform love relationships, with displays of compulsion or infatuation being healthy signs at this time. This Venus transit is also a good omen for your finances. If debt has been a problem, then action can be taken to get on top of the problem, especially from February 6 to 10.
Decan 3 Pisces February 2015
An excellent month ahead, especially for you love life with loving Venus and sexy Mars both passing through your decan. You should enter this month on a high because of the January 20 new moon. General well-being and a positive outlook should continue with this moon phase lasting until the February 18 new moon. Conditions are ideal for starting new projects and taking the initiative, up to the February 3 full moon. After that, you can enjoy recent gains and spend more time with family and friends.
Mars in your decan from February 6 to 20 will bring a burst of energy and enthusiasm. You can put this energy into anything you want and expect assistance and success. Superiors in particular will be impressed with your initiative and directness. Being upfront and promoting yourself will not be off-putting to others as it can be at other times.
Venus in your decan from February 12 to 21 means you will be wanting to put your extra energy into relationships or something creative. It will tone down your strong competitive or aggressive urges. But it will increase your strong passionate desires, especially if you are on the dating scene. Mars is boosting your physical and sexual attractiveness, while Venus brings beauty and displays of affection. This is a wonderful opportunity to make a big impression on someone special. New love is very possible now, as this is the ultimate combination to attract the right person for you.
Monthly Horoscopes