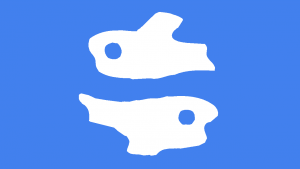 March 2015 Pisces horoscope with decans for a more accurate forecast. If you are on a cusp, use the free horoscope to find your decan.
Decan 1 Pisces March 2015 Horoscope
Another good month awaits and you should still be on a high because of your birthday new moon. As mentioned last month, "with this moon phase starring in your 2015 solar return chart, self promotion and advancement will be major themes for the next twelve months."
Setting goals is an important thing to be done following your birthday. Mercury in your decan from March 12 to 20 would usually be perfect timing for making big plans but there is one complication to consider. Mercury square Saturn from March 14 to 17 will bring out pessimism and other negative thinking associated with Saturn square your decan. Also note that Saturn retrograde begins on March 14 which will accentuate the negative impact on your frame of mind. Do remember that you will be seeing the worst in every situation and things in reality will not be so gloomy.
Venus sextile your decan from March 16 to 26 will lighten things up and improve your frame of mind. This is a good week or so for love and money.  Venus sextile Neptune from March 22 to 25 combines the affection of Venus and the sensual charm of your Neptune conjunction. Romance could well be on the cards now and you will be mesmerizing and charming in social situations.
Mars sextile your decan from March 30 to the 15th of April 2015 will continue the fine conditions for relationships well into your April Pisces horoscope. While you need to hold back somewhat during the Mercury transit, now you can get to work on realizing the potential in your solar return chart.
Decan 2 Pisces March 2015 Horoscope
The good conditions in your Pisces horoscopes so far this year accelerates this month, mainly due to some excellent stars around the time of your birthday. Solar return from the 28th of February 2015 to the 11th of March brings confidence and harmony. Obstacles will fade away and assistance will be on offer to further your goals.
The March 5 full moon will remain active in your solar return chart for the next twelve months. It is a powerful full moon too because it positively activates Pluto sextile your decan. This will have many good effects including an amazing power to transform your inner life, especially in eliminating addictions or other bad habits.You will have greater influence over the outcomes in your life and also over the lives of loved ones. There will be a stronger influence ahead on your home and family life, with a deepening of close relationships.ally your emotional life and habits or addictions.
Uranus square Pluto is active all month but exact for the final time on 16 March 2015. It will not have the same dramatic and problematic influence on your life as it will on Aries, Cancer, Libra and Capricorn people you know, especially from decan 2. People you care about from these signs may be subconsciously drawn to you now for emotional support.
Mercury in your decan March 19 to 26 means it is time for planning your goals for the year ahead. Good intuition and organizing skills can be used to your advantage. Mercury sextile Pluto from March 21 to 23 will enable you to uncover secrets and solve mysteries. If astrology is gaining more interest for you, this would be a great time to start learning more around the internet. I have a good list of the best sites here.
Venus sextile your decan from the 25th of March to the 3rd of April 2015 increase your need for love and affection. From March 29 to 31, Venus trine Pluto will deepen an existing relationships or increase the chances of karmic meeting with potential overs. Any new romance now would be intense and have include compulsion or obsession.
Decan 3 Pisces March 2015 Horoscope
You enjoyed good astrological weather for your February Pisces horoscope and it gets even better in March 2014, even though there are only two transits to talk about. Your Solar return from March 10 to 21 includes the March 20 solar eclipse.
As mentioned in your 2015 horoscope, there are no major influences this year until birthday time with the March 20 solar eclipse. It will be worth the wait because a solar eclipse in your decan is very fortunate and makes up an integral part of your 2015 solar return chart. This means that the benefits stay with you for the entire twelve months ahead.
A solar eclipse around the time of your birthday gives a powerful boost to your self-confidence, energy and enthusiasm. You will be in the spotlight this year and will enjoy more personal power and influence. This is a great time to set new goals for the year ahead. With fewer obstacles than usual, plus more assistance from others, you will be able to attain your goals with comparative ease. So aim high, as within this productive eclipse cycle, the next transit offers even greater chances of success.
Mercury in your decan from March 25 to 31 is excellent timing for planning your long-term goals just mentioned. You can rely on a piercing intellect and sound judgement to formulate these plans. Your intuition will be strong and accurate so go with your first instincts. This will be a very busy week but you will manage it with ease. Doing business is favored and you can sign on the dotted line with confidence.
Monthly Horoscopes