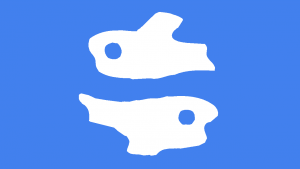 April 2015 Pisces horoscope with decans for a more accurate forecast. If you are on a cusp, use the free horoscope to find your decan.
Decan 1 Pisces April 2015 Horoscope
The good times keep rolling this month starting with Mars sextile your decan from April 1 to 14. This high energy transit will boost your enthusiasm and initiative. You will be able to achieve a lot with hard work seeming easy. Your love life will benefit from increased sex appeal, and your primal desires will be extra strong. The best days for romance are during Mars sextile Neptune from April 9 to 14. With Mars passion influenced by Neptune in your decan, you can count on ample charisma and sensuality to impress someone special.
Venus square your decan from April 11 to 20 represents the only challenging period this month. You may have trouble with motivation, and find it difficult to express your affectionate side. Coldness is something to watch during Venus opposite Saturn from April 13 to 17. The influence of Saturn square your decan on your love life could lead to distance or even separation, especially if things have been rocky lately. Venus square Neptune from April 17 to 21 will exacerbate any recent problems and add suspicion or jealousy into the mix. Be careful on these days not to leave yourself open to scandal or slander.
The good times return with Mercury sextile your decan from April 14 to 20. This will bring clarity of thought and excellent communication skills. This week is the best time of the month for attending meetings and appointments, plus doing all kinds of business. You should enjoy very acute intuition and increased psychic ability during Mercury sextile Neptune from April 18 to 20.
The Sun sextile your decan from April 19 to the 1st of May 2015 brings the benefits of increased self-esteem and personal power. The April 18 new moon will enhance these goodies and extend their influence well into May 2015. The Sun sextile Neptune from April 27 to May 1 will increase your level of compassion and willingness to help others. It would be most rewarding to join groups at this time or look further into occult subjects like astrology and Tarot.
Decan 2 Pisces April 2015 Horoscope
Another good month ahead, and carrying over from last month you have the tender influence of Venus sextile your decan until April 3. This brings harmony to all relationships and is an especially good omen for your love life. You can take this time to relax and unwind. There is a break of ten days to the next transit, so relaxing is probably a good thing as things are about to get real busy.
Mars sextile your decan from April 13 to 29 brings a boost of energy and enthusiasm. Hard work is favored, as is anything requiring some initiative and drive. Your sex drive will be strong now, and increased physical attractiveness makes this period ideal for flirting or having fun with a willing partner. Mars trine Pluto from April 18 to 24 dramatically increases your determination and will to succeed. Mars enhanced by Pluto sextile your decan gives immense personal power, influence and charisma.
Mercury sextile your decan happens at the same time, from April 19 to 25. This makes you incredible persuasive and perceptive. A piercing intellect now is ideal for debating, negotiating and convincing others. Business transaction should work out well. Do be careful with this potent energy though. You could sell ice to the Eskimos so keep high moral standards so you don't abuse your power and take advantage of others.
Venus square your decan from April 19 to 29 means that you may not have such influence in your love life. It could, on the other hand, mean that simmering tensions in a relationship can now be resolved with your increased awareness and tact.
Decan 3 Pisces April 2015 Horoscope
Your focus and energy from the March 20 solar eclipse will still be very powerful this month. A series of fortunate transits gives you a great opportunity during April to make big gains. Your love life is the first beneficiary with Venus sextile your decan from April 2 to 12. You should feel more loving and affectionate, and will attract the same from others because of your increased popularity and appeal. This is an ideal time to strengthen an existing relationships or to seek a new lover.
You have a break from shorter term influence for 10 days now. As always, a lack of transits does not mean life grinds to a halt, there are most often longer term influences at work in the background, In this case, it is the positive influence of the birthday solar eclipse.
Mercury sextile your decan from April 24 to the 1st of May 2015 increases mental powers and communication skills. This is the best time of the month for scheduling meetings and appointments. Business matters are favored or you could simply catch up with friends this week. Socializing is favored with the final few days of April ideal for putting your plans into action.
This is due to Mars sextile your decan from April 27 to the 13th of May 2015. The outlook for next month is now looking very positive. Mars bring increased energy and enthusiasm. This will benefit your career but also your love life because of extra sex appeal and charisma. The one exception to this is due to Venus square your decan from April 28 to the 8th of May 2015. Tension in your relationships is more likely now, but more on this next month.
Monthly Horoscopes