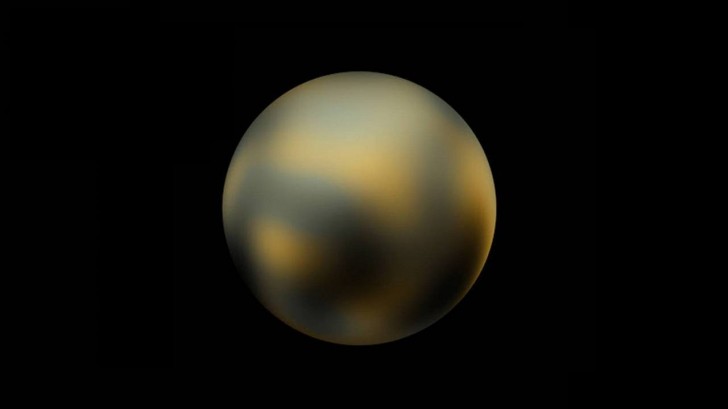 Pluto retrograde is a time of inner transformation, deep psychological, and spiritual work on the self with the aim of evolving the soul. Dark and destructive things lurking inside can be identified and eliminated. Once the garbage in the body, mind, and spirit is flushed out, then regeneration can occur.
Pluto Retrograde 2014
Pluto retrograde 2014 begins on the 14th of April at 13 degrees Capricorn, smack bang in the middle of the most hectic and intense astrological configuration for a long time. And Pluto is center stage in this powerful dynamic, as it is the slowest moving planet, the anchor in Grand Cross 2014.
The explosive square configuration, shown in red in the chart, is the major influence on the station of Pluto retrograde. The dramatic upheaval and unpredictable change, with the likelihood or destruction and violence, is reinforced with the two most malefic planets also being retrograde at this time.
Mars retrograde has it naturally aggressive character irritated further by the Crow, constellation Corvus, associated with maliciousness and terrorism. Saturn retrograde has its naturally debilitating nature intensified by the poisonous fixed star Unukalhai, in the Serpent.
It would appear that the deep psychological transformation promoted by Pluto retrograde, is being forced on us by circumstances beyond our control. We just don't know what to expect, and this uncertainty and anxiousness is made all the more unsettling with Mercury conjunct Uranus, almost exact at 2 minutes orb the moment Pluto stations retrograde.
This adds up to a fearful looking Pluto retrograde cycle, but there are some positives we can use to make the journey into the underworld less scary. Two big positives in fact.
Only 8 hours after the beginning of Pluto retrograde, the Lunar Eclipse on 15 April 2014 falls on the two most fortunate stars in the sky, with Arcturus having a stronger influence than Spica. We can look forward to a nurturing and guiding influence at the hands of strong and independent women, not only in our personal lives, but also on the world stage. Finally, Pluto stations retrograde on the fixed star Ascella. This star may not be so glorious as Arcturus, but it does promise good fortune and happiness.
The most challenging time of the five month Pluto retrograde cycle will be in the first weeks. There is light at the end of this dark tunnel, for when Pluto stations direct on 22 September 2014 (see chart), Jupiter trine Uranus will bring bountiful opportunities for personal and material growth, as well as more freedom and hope for the future.
Pluto Retrograde 2014 in the Signs
Although Pluto retrograde will most strongly affect decan 2 of the signs, the following interpretations should apply to most of us, because at 13 degrees Capricorn, Pluto is basically in the middle of the sign. Added to this, the incredibly intense grand cross and the powerful lunar eclipse will amplify the effects of the Pluto transits. More detail can be found by following the links below.
Capricorn: Pluto conjunct Sun transit represents life changing events, where you come face to face with powerful forces and strong personalities. Pluto retrograde will act to strip away the non-essentials in your life. this will make you feel rather vulnerable, often times with a feeling of desperation. Keep in mind that Pluto will only remove those things in your life which are standing in the way of your souls true path.
Cancer: Pluto opposite Sun transit dramatically increases your drive for power and control, over your own life and over the lives of other people. Without even noticing it, you may start to become more ruthless in your quest for power. What you will notice is the reactions of other people, who will become more defensive around you. This may result in ego conflicts and confrontations, as they seek to maintain the balance of power, or regain the power they once had over you.
Aries and Libra: Pluto square Sun transit will test your strength of character as you are forced to deal with challenges to you goals and to your ego. These tests and challenges during Pluto retrograde 2014, will often come in the form of ego challenges from superiors and other authority figures. Your drive to achieve your goals will become intense, but the more pushy or domineering you become in order to succeed, the greater the resistance will be.
Taurus and Virgo: Pluto trine Sun transit is the best of the long term influences in astrology. It gives a tremendously powerful ability to positively transform your life. You will notice increased personal power and influence, not only over your own life, but over the lives of those around you. The boost to your self-confidence and determination, means you can power ahead to achieve success with your personal and professional goals.
Scorpio and Pisces: Pluto sextile Sun transit increases your energy and determination to reach to your full potential. Amid the initial chaos and uncertainty of Pluto retrograde 2014, you will do better than most as you take advantage of the opportunities that fall your way. These opportunities can be taken advantage of with assistance from powerful sources, such as bosses and government agencies. Your own power and authority will grow during this time.
Gemini and Leo: Pluto quincunx Sun transit will trigger an intense desire to achieve more power and influence, yet your determination and endurance may be sporadic, swinging from periods or intense activity, to periods of negative obsessions and compulsions. The key to making the most of Pluto retrograde 2014, is to moderate your powerful urges, so you can go the distance. The goals you are trying to achieve now are long terms ones which require sustained effort.
Sagittarius and Aquarius: Pluto semi-sextile Sun transit is similar to the influence of Pluto sextile Sun, though more subtle. You are gradually increasing your power and influence, enabling you to make positive reforms in your life. Step by step, you can eliminate negative habits that have been barriers to success. This will increase your self-esteem and have a positive flow-on effect in your close relationships.